Lëtzebuerger Rousekalenner 2021
The 2021 calendar has just been released and presents photographs of roses and rose bouquets.
The calendar at the price of 15 €.
By transferring the sum of 18€ per postage stamp calendar included, to the account of the
Lëtzebuerger Rousefrënn IBAN LU32 1111 0943 0521 0000
with the mention 'calendar 2021′ and the desired number of calendars.
The calendar will then be sent to you by post (this rate applies for deliveries in Luxembourg.
For deliveries outside Luxembourg, please ask for the price list from the association rousefrenn@gmail.com or call +352 621 422 444.
Visit by the President of the World Federation of Rose Societies to the Munsbach Castle Rose Garden.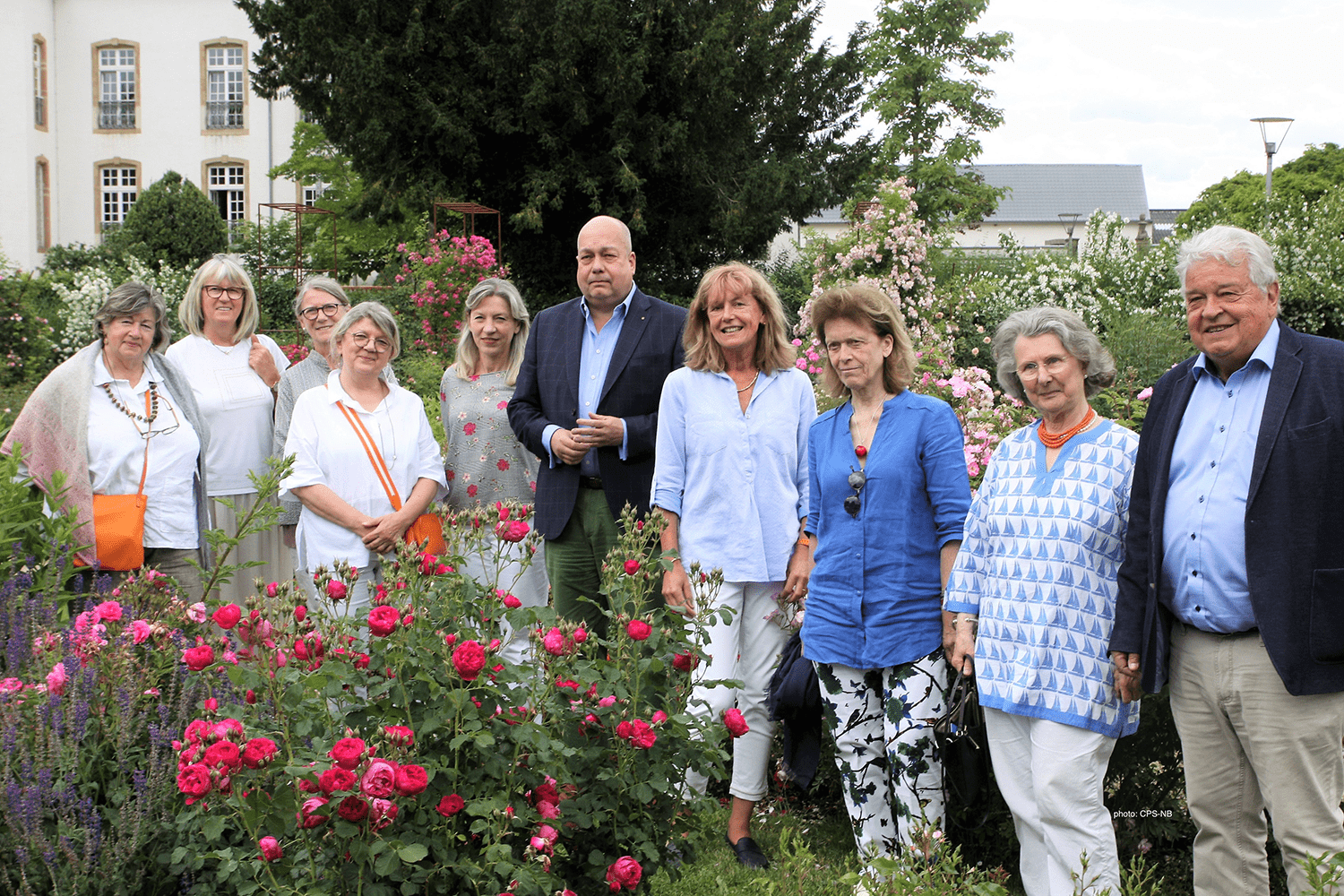 Visit at the "Roseraie Schloss Munsbach" by the President of the World Federation of Rose Societies.
At the invitation of the Lëtzebuerger Rousefrënn, Countess Henrianne de Briey, President of the World Federation of Rose Societies, took advantage of her visit to Luxembourg to visit the Park of the Château de Münsbach to walk through the flowerbeds of this magnificent national collection of our country's roses.
She was thus able to admire the roses produced in the past by Luxembourg rose growers and widely exported throughout the world, as well as those later christened in Luxembourg:
In all, around 150 different species, in full bloom.
The President of the Lëtzebuerger Rousefrënn, Mireille Steil, surrounded by her committee, led the visit.
We stopped in front of this or that rose dedicated to a member of the grand-ducal family or to a Luxembourg or foreign personality.
The rose garden is open to the public and is freely accessible every day of the week.
It should be remembered that the World Federation brings together some fifty National Federations and that it was created by the mother of Countess Henrianne de Briey: Lilly de Gerlache, a great figure of the Belgian resistance and a survivor of Ravensbruck.  Gaston de Gerlache, Henrianne's father was with Prince Antoine de Ligne, husband of Princess Alix, a member of the Belgian expeditions to Antarctica.
We also briefly recalled the history of the castle, which for a few years after the First World War was the residence of the Belgian Legation with Albert de Ligne and Jules le Jeune de Munsbach. And it was the latter who, in 1921, after the troubled years of discord, contributed to the setting up of the Economic Union with Belgium.
Lëtzebuerger Rousefrënn
15 June 2020
La Rose en Fête (Celebration of the rose)
In the wonderful rose gardens of Château de Munsbach
Documentary
Et wor emol zu Lëtzebuerg: "D'Rousekinneken"