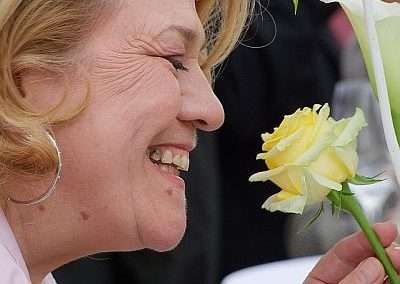 Hybrid Tea Rose
Breeder: Tantau 2012
Height: 80 cm
Planting distance: 60 cm
Pleasant fragrance
Awards:
Belfast (Northern Ireland) 1st prize for tea roses
Kortrijk (B) Silver Medal
St. Albans (UK) Gold Medal
The Hague (NL) Gold Medal
Geneva (CH) Silver Medal
Hradec Kralové Ladies Prize 2015
His Excellence Robert A. Mandell, United States Ambassador to Luxembourg 2011-2015, along with Léa Linster, Luxembourg chef and the first woman worldwide to win the famous 'Bocuse d'Or' prize in 1989, named this magnificent tea rose.
The tea rose 'Avec Amour' is a beautiful rosebush in a shade of yellow that is both bright and tender. Its turbinated flowers with their delicate fragrance follow on from each other continuously and look wonderful in a vase. The dark and glossy foliage does not suffer from diseases.
The namer was His Excellency the Ambassador of the U.S.A..
'Avec Amour' won the Silver Medal at the International Competition of New Roses in 2011 in Geneva, under the code RT04341.
The breeder 'Rosen Tantau' from Uetersen is among the biggest in Europe and wins prizes all around the world.